Hello everybody my name is Martha and today I will be telling you all
about the whizz popping bestselling  book Charlie and the Chocolate Factory. So lets get started!
This book has sold 302,300 books world wide and is most loved by children as it lets their imagination run free. It is also enjoyable for adults as it makes them laugh at the exquisite but hilarious jokes.
The main character in the book Charlie and the Chocolate Factory is of-cause Charlie Bucket and Mr Willy Wonka.
---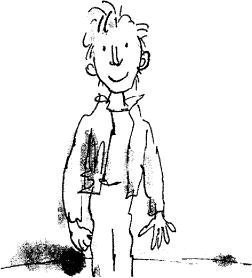 This is Charlie. How do you do? And how do you do? And how do you do again? He is pleased to meet you!  Charlie is a young skinny lad who lives in a poor household and his family is so extremely poor they can barely afford for him to go to school yet alone food. At this the young lad has to suffer by eating stew, cabbage stew. Yuck! But only once a year on his birthday he gets to taste a sensation of Wonkas Chocolate Bars.
---
'Mr Willy Wonka is the most amazing, the most fantastic, the most extraordinary chocolate maker the world has ever seen!' Mr Wonka has his own
Chocolate Factory. He does not only make chocolate but he also makes gum, edible grass and much much more! He has workers called Umpa lumpas which used to live in the Tropical Congo Jungle.  Mr Willy Wonka is the only person in the universe who mixes chocolate by waterfall and creates the most scrumptious and bizarre candy!
Hope you enjoyed my article and be sure to check out the series the ghost awakens by Martha  (me) and Thomas
Thank you for reading my article bye bye!