In England heaps of people have prepared for the welcoming of a new member in the royal family, Meghan Markle. Quite recently Prince Harry married Meghan Markle – a popular American actress. Accordingly, a number of schools in England have had a picnic, drew pictures of the couple and even had an entire assembly relating to this extraordinary occasion. Despite the fact that Prince Harry and Meghan Markle live remarkably far apart Meghans' American mother travelled all the way to England to attend her wedding!
The couples big day was located at St George's chapel, Windsor on the 19th May 2018. As a royal wedding you would typically assume the security to be astonishingly high : this particular wedding has been known to have cost £30,000,000! Around 30,000 police were deployed to keep look out at the wedding.
As you all may be wondering, when will I introduce the cost of Meghan Markles wedding dress? Rumours spread that the bride had worn a custom Ralph and Russo designed dress that cost approximately £100,000. This dress is white – unusually the queen orders that the royal family must wear a white wedding dress on their wedding day. To top the dress itself she wears a veil, a bracelet and some pearl ear-rings. She held a bouquet of flowers containing forget-me-nots in memory of Princess Diana ( they were her favourite flowers, ) sweet peas, lilies of the valley, astilbe, jasmine, astrantia, and sprigs of myrtle.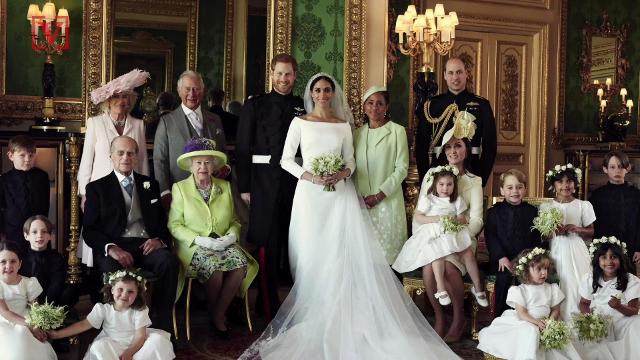 Some facts about the wedding:
Meghan Markles real name is Rachel Meghan Markle.
After the wedding they gave the flowers to charities.
Prince William will be Harry's best man.
At the wedding there was no maid of honor.
Meghan's father will walk Meghan down the aisle.
Meghan is now known as the Dutches of Sussex.
Harry and Meghan read traditional vows from the Book of Common Prayer to each other on their wedding day.
Both Harry's exes attended the wedding.
One of Meghan's bridesmaids is tennis champion Serena Williams.
18 million people watched the wedding on television.