Quentin Blake is an English cartoonist and illustrator. He was born on the 16th December 1932 in Kent. He is 84 years old. His full name is Quentin Saxby Blake. He may be known best for illustrating books written by Roald Dahl.
One of his first ever drawings was published in Punch, when he was only 16. Then he continued to draw for Punch, The Spectators and other magazines for many years.
He went to Chislehurst and Sidcup Grammar school, and then National service. Although he was an illustrator he studied to be a teacher, at Downing College (Cambridge.)
He illustrated over 300 books, including the ones he wrote himself. The first ever book he illustrated was by Dr Seuss. As well as illustrating fiction he did poetry, healthy living and cookery. He also designed logos, postage stamps and side of buses. 
One of his biggest projects was working on a large mural on a building near St. Pancras station in London. The mural was designed to welcome passengers arriving in London by train.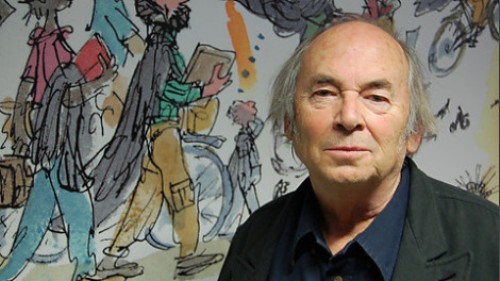 Facts
In his spare time Quentin Blake likes to give talks, read, watch birds and cycle.
Since 1992 he has been working in the British library and a museum in Paris.
He has won many awards such as the Kate Greenaway for best children's book illustrations.
He owns a house in France and sometimes tries to read a book in French.
He presented the children's programme Jackanory.