Hi, my name is Suhanna today I am going to tell you about my favorite book of all time, The Twits.The Twits is an amusing story written by Roald Dahl and illustrated by Quentin Blake.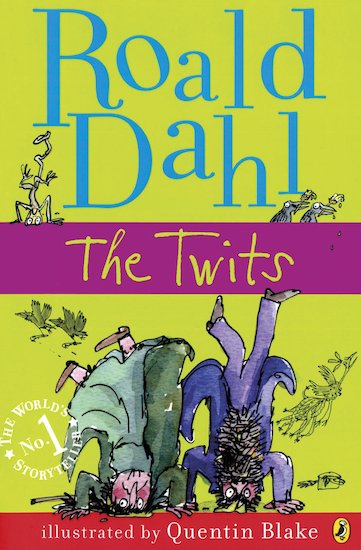 Mr. Twit is one of the main characters from The Twits. He is a colossal holy horror with a beard as long as a walking stick.
Mrs. Twit is one of the main characters from The Twits. She is a snot-nosed two-faced old bag.
The story is about 2 repulsive old people that constantly play pranks on each other. My favorite prank was when Mrs. Twit put worms in Mr. Twits spaghetti. It is also about monkeys that live in cages and get revenge on these revolting people. Mr. Twit wanted to win THE GREAT UPSIDE DOWN MONKEY CIRCUS. So he trained the monkeys 6 hours a day and if they didn't do what they were told they would receive a Mrs. Twit's kick stick in the back. But one day the monkeys get revenge by putting the worlds stickiest glue on the floor and somehow gluing the Twits' heads on to it.
I really enjoyed this book as it was very funny and I know you will enjoy it as much as I did!
Bye!!!